Ikebana is the Japanese art of flower arrangement. Ikebana in Japanese means "living flowers" and is also known as Kado meaning "way of flowers". This tradition goes back centuries when floral offerings were made at altars. This practice began when Buddhism was introduced in Japan by emissaries from China.  With time, the flowers ended up getting arranged and placed in the alcove of a home. The early form of Ikebana were called as Tatehana.
The below image is a drawing (1820) of a floral arrangment made by Ikenobo Senjo.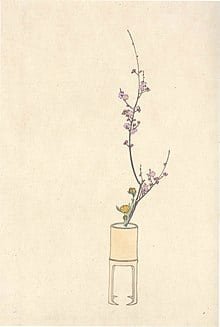 Buddhist monks had a major role to play in the popularity of Ikebana. In the 15th century, Senno, a buddhist monk founded the largest school of Ikebana in Japan. Sen'ei Ikenebo is the current forty fifth generation Ikenobo headmaster.